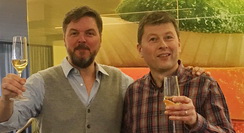 PPO has reason to celebrate!
Already at the beginning of the year there was a good reason to celebrate. Peter Frey started working for PPO 25 years ago. Since then he has been full of energy and heart and soul every day. His humanity and great personality are highly appreciated.

Gerhard Sonderegger also celebrates 20 years of PPO. We greatly appreciate Gerhard as an employee. His helpfulness and active thinking are an important part of our company.

We would like to take this opportunity to thank them for their commitment. We wish both of them much success in their future lives and look forward to many more years together.