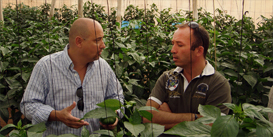 Sustainability in our company
The extremely careful evaluation of our producers is a main factor for our success.
As a traditional company we are based on long-term relationships with our partners.
Some of our foreign producer relies on us in third generation. We know each other personally. Trust and respect is the basis for a long-term relation. Regularly we are visiting our growers to inform us of the latest production methods, the infrastructure as well as working processes. The producers are not only complying with our requirements, they need to follow as well the international standards like for example Global GAP. The changing climate and steadily growing requests of different group of interest is challenging to them. Aiming for a long-term partnership we support our growers where ever we can. This gives us as well the continuity demanded by our clients.