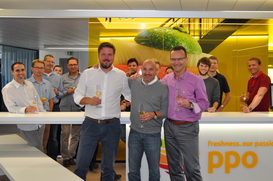 Change in management
We are happy to inform you today that, in line with the rotation principle in PPO Services AG's management body, Daniel Buchmüller (with Peter Frey as deputy) will be taking over the chairmanship of the PPO Executive Board from Lothar Schär as of 1 January 2016.

Daniel Buchmüller (born 1965) has many years of professional experience and has been active in PPO for 28 years. He has been the deputy CEO since 2008. The three main partners (Daniel Buchmüller, Peter Frey and Lothar Schär) are still associated in the same way. Lothar Schär will remain a member of the executive board and will be unchanged at PPO's disposal.

The planned change of leadership represents a further step towards ensuring that the long-term development of PPO can be implemented as planned. This does not entail any further changes for our customers, business partners, or employees.

Thank you for your attention and the trust always placed in us. We look forward to continuing our good and successful cooperation.