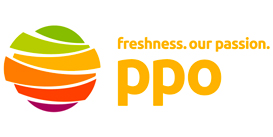 Our new Corporate Design
The expectations we put into our Corporate Design were very high:
It should maintain our identity, show flexibility and obviously reach anyone's emotions.
Keeping up with the established orange colour we tried to connect the traditional philosophy of our company. Fruity and freshly piled slices of fruit and vegetable build a kind of globe which reflects on one hand our diversity of products and on the other hand our worldwide connections. As a colourful, organic globe it plays a central role in our communication. On the same time it stands for distinctiveness and causes positive associations.
Our new Corporate Claim: "freshness. Our passion" represents our main values and brand promises. "Freshness" stays for the high standard and quality of our products and "our passion" stays for the passionate commitment of our employees. That's what we stand for!